Tallinn, Estonia, 17th November, 2022 — Crypto Snack, a global pioneer in cryptocurrency payment solutions, today announced the start of its first phase to enable La Liga's RCD Espanyol to become the world's first football club to fully integrate crypto payments.
RCD Espanyol will accept over 30 different cryptocurrencies, including the SNACK token, for a variety of online and offline payments. Fans will be able to purchase team merchandise, tickets and experiences for matches. Crypto Snack and RCDE will work on further actions to improve the adoption of the technology, such as the installation of crypto-enabled ATMs in the team's stadium.
This is the first of many partnerships the Crypto Snack team is working on, designed to bring the efficiency of digital assets further into the world of sports, entertainment, and beyond by onboarding crypto payments for real-world experiences.
"We're excited to partner with RCD Espanyol to bring cryptocurrency payments directly to fans," Stuart Morrison, CEO of Crypto Snack, said. "This partnership will accelerate our plans to make cryptocurrency payments viable and scalable in the real world."
"RCD Espanyol is thrilled to be a pioneering football club, and the first to bring widespread cryptocurrency payments to the sport," said Toni Alegre, Vice Principal at RCD Espanyol, "Crypto Snack provided expert guidance, support, and technical know-how to help us make this happen."
The roadmap behind this Crypto Snack milestone
Crypto Snack has been working non-stop during the current crypto winter on building a strong brand, and stable business that is accomplishing every milestone set out in the roadmap. Introducing crypto payments to RCD Espanyol payments is another huge accomplishment to accompany the rest.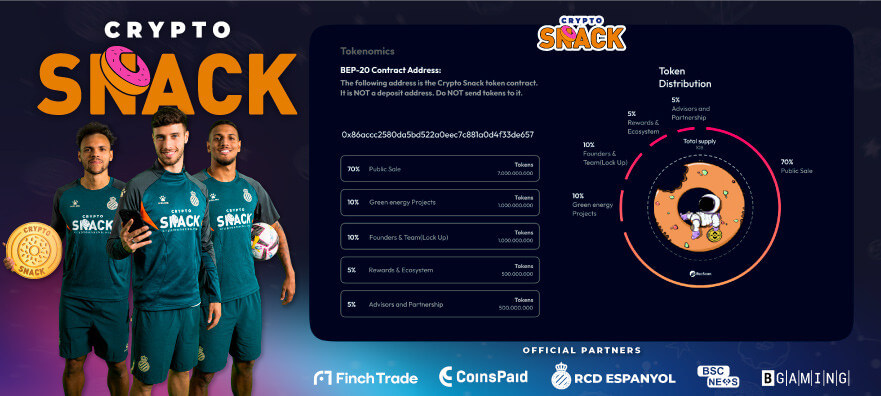 This is not the first big news shared recently by Crypto Snack. Earlier in July Crypto Snack finalized a strategic $50 million investment commitment from GEM Digital Limited. This is enabling the company to build further relationships with top crypto exchanges, add to its growing portfolio of global professional sports partnerships, as well as continue to develop its blockchain technology and infrastructure.
Based on a shared vision, key partnerships, and a dynamic team of Snackers that is rapidly growing, the Crypto Snack community's purpose is to bring the benefits of decentralized finance into everyday transactions, allowing a smooth and effective process. The SNACK tokenomics plan adds interesting environmental sustainability goals, with the aim of making the project carbon-neutral and in the future carbon-negative.